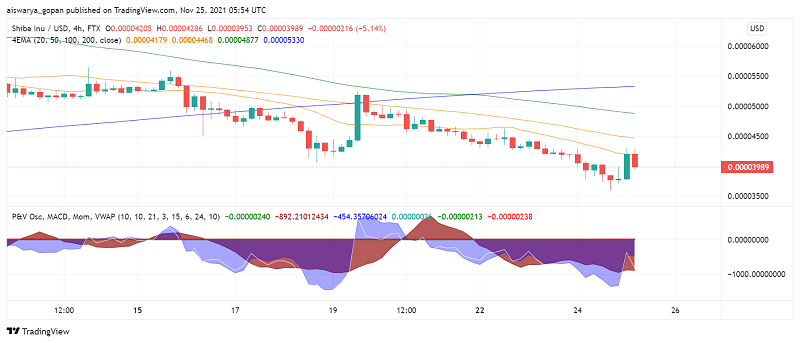 The second most popular memecoin Shiba Inu (SHIB) appears to be on quite the downslide, as crypto investors across India – one of the largest user base of crypto traders in the world, indulge in panic selling over news reports that its government could be considering a ban on private cryptocurrencies soon. At the time of writing, SHIB/USD is trading around $0.000039.
The mood in the crypto markets darkened during the previous session after India decided to introduce the crypto bill for discussion in the upcoming winter session of its Parliament. Emerging news reports suggest that in addition to looking into CBDCs, the bill could potentially ban the trade of private cryptocurrencies, causing many investors to sell off their crypto holdings across the country. Memecoins like Dogecoin and Shiba Inu experienced considerable selling activity through the previous session, driving their prices lower.
Meanwhile, according to latest analysis of Google trends, the hype around the meme token may be fading once again as the number of worldwide searches for Shiba Inu have fallen to the lowest level seen in one month. In addition, the bearish sentiment weighing on the crypto market lately has driven a lot of SHIB whales to indulge in profit-taking by selling off their large holdings in this cryptocurrency. Increased selling activity among whales or large holders of a cryptocurrency play an important role in driving down its price and strengthening its bearish momentum.
But all may not be lost just yet as far as the Shib Army is concerned. There is considerable interest in adopting the memecoin as an acceptable payment method among several businesses. One of the most promising developments is from AMC theatres which had recently confirmed its plans to accept Shiba Inu as payment in the coming months. Its CEO Adam Aaron recently tweeted that he urged BitPay, the blockchain payments business utilized by his company, to start adding support for SHIB. Once the payment processing business adds support for this coin, it could be added to the list of cryptocurrencies that users can leverage to pay for movie tickets and concessions at AMC.
Speaking of adoption, luxury car dealership Vegas Auto Gallery announced late last week that it would start accepting payments in Shiba Inu from consumers looking to buy cars. Consumers can buy luxury cars such as Lamborghini, Aston Martin, Rolls-Royce and Bentley through the dealership using their holdings in SHIB.
The rising interest among investors in trading Shiba Inu has prompted Bitfinex Derivatives to launch perpetual swaps for SHIB on its platform. The derivatives platform will start offering perpetual contracts for the memecoin which can be settled in USDT, offering users up to 100x leverage. The company expects high level of interest in this product, especially among funds and professional investors looking for hedging and risk management.
SHIB/USD Technical Analysis
On the 4-hour chart of SHIB/USD, moving averages as well as leading technical indicators MACD and momentum suggest a strong bearish bias in the market. Shiba Inu's price is sitting well under the pivot point at $0.000046.
SHIB/USD
SHIB is holding just above the immediate support at $0.000037 which looks like it could give way if the selling pressure builds up further. Keep a close eye on this level as a break of it can cause a tumble till the second support at $0.000031.