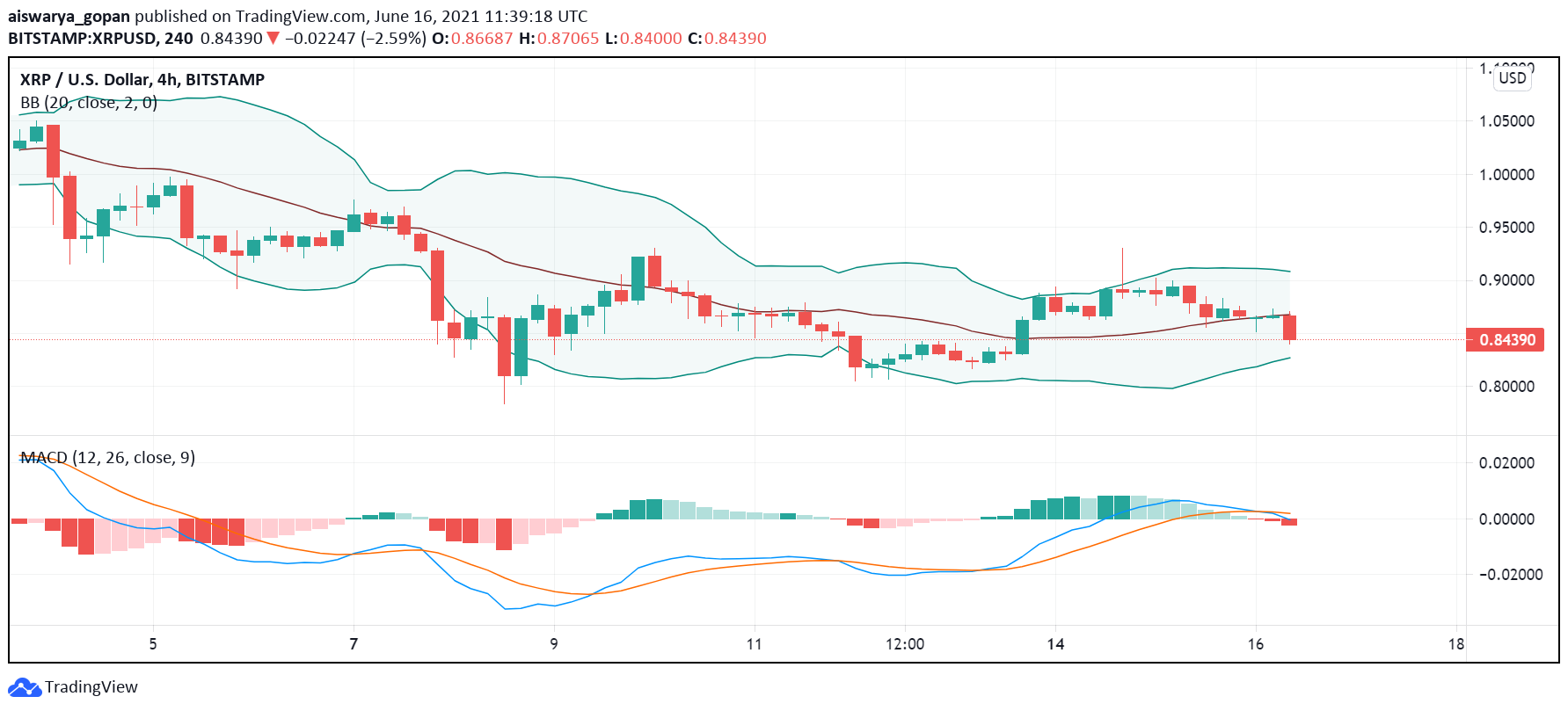 Ripple (XRP) is trading weak, down by 4.50% since the past 24 hours, with buyers unable to take the price to new highs ever since it dropped below the key $1 level some days ago. At the time of writing, XRP/USD is trading at around $0.84.
On the issue of the lawsuit between Ripple and the SEC, although a few days ago, it seemed like both parties could reach a settlement before the case goes to trial, there seem to be new developments keeping investors on edge. Judge Netburn has granted the SEC an extension of two more months to conduct discovery in the case as it attempts to fight Ripple's fair notice defense.
Even as the case drags on, attorney Jeremy Hogan maintains that the legal tussle could still end in a settlement, although it could very well drag into 2022. Ripple's XRP finds some support from the judge denying several motions filed by the SEC, a move that experts claim indicates a weak case against the company.
The weakness in XRP can also be attributed to a cautious mood in the crypto market as investors await the outcome of the latest FOMC meeting scheduled to release later in the day. There is a lot of interest to see when the Fed could begin tapering its asset purchase program as such a move could trigger volatility not just in the forex markets and financial markets at large but also have an impact on the alternate investment status cryptocurrencies enjoy.
Key Levels to Watch
The 4-hour chart of XRP/USD reveals a strong bearish bias among moving averages and leading technical indicators MACD and momentum. The price sits well below the pivot point at $0.88 and further weakness can see it drop below the $0.80 level to test support at $0.78.
In case the sentiment improves suddenly, however, Ripple's XRP could gain a bout of strength to test the $1.00 level. Before that, it would have to break past resistance at $0.97.