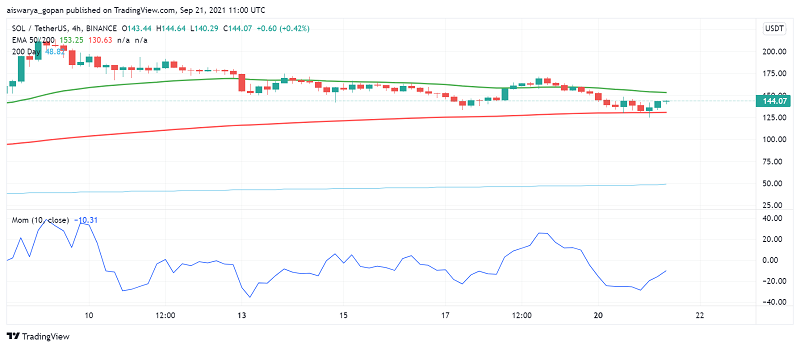 Solana (SOL) extends its downslide into Tuesday being weighed down by the extremely bearish market sentiment in the wider crypto sector after leader Bitcoin plunged below the $45,000 mark, despite having several promising fundamental developments which could have spurred buying interest. At the time of writing, SOL/USDT is trading around $144.07.
The seventh largest cryptocurrency by market capitalization enjoyed quite the bull run over the past several weeks until being hit by a network outage last week, which caused a dip in its price. However, the latest CoinShares data indicates that institutional investors continued to pour in funds into Solana despite the outage, investing as much as $4.8 million in it over the past week.
The outage was initially thought to have been caused by resource exhaustion after trying to handle an overwhelming number of transactions caused the blockchain to start a hard fork. However, further investigations by the Solana Foundation reveal that the flood of transactions was caused by bots attempting a 'denial of service' attack which forced network validators to restart the network in an attempt to overturn the damage. In a recent interview with Bloomberg, founder and CEO of leading crypto exchange Sam Bankman-Fried shared that the outage was sad and frustrating and was the result of its limits being tested as it was being scaled at a rapid pace.
Even as the SOL token continues to trade bearish being weighed down by the market sentiment, several interesting fundamental developments could lend it some support once investors' mood picks up. One of the leading crypto ETP issuers worldwide, 21Shares, announced the upcoming listing of its Solana ETP on Euronext Paris and Amsterdam scheduled to take place on September 23. This development could bolster further investor confidence in the crypto and drive more institutional inflows into it soon.
In addition, a recent report by Blockworks indicates that popular ETF and mutual fund manager VanEck also has plans to launch a Solana-based ETF soon. The firm has been impressed with the blockchain network's high speed transaction processing capabilities which offers several significant use cases.
Key Levels to Watch
Technical analysis of the H4 chart of SOL/USDT reveals a mixed signal with the smallest and largest moving averages as well as the momentum indicator suggesting a bullish bias. However, the other MAs and the MACD are pointing to some selling interest as well.
Solana's price remains just under the pivot point at $153.92 but above the immediate support at $132.84. An increase in buying interest can take the price higher to test and rise above the pivot point while an uptick in selling interest can see it test the support level.