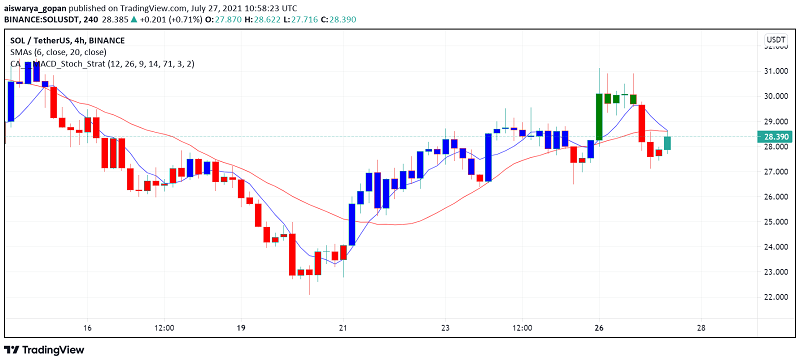 Solana (SOL) is making its way back up cautiously in early trading on Tuesday as the bulls reappear in the wider crypto sector, cheering Bitcoin's return above the $37k level once again. At the time of writing, SOL/USDT is trading around $28.39, up by more than 25% over the past week.
While the potential Ethereum killer has registered a daily loss owing to the bearish sentiment driven by Bitcoin falling from its brief peak of $40k, there are several promising fundamental developments that can lend it support in the coming sessions, limiting its losses. However, for the time being, the price action in this cryptocurrency is being controlled by moves in Bitcoin, owing to a wary mood among traders due to the rising regulatory concerns the sector is facing across several countries, including the US, lately.
The Solana Foundation has partnered with music streaming service Audius and NFT marketplace Metaplex to launch a $5 million fund to attract artists and musicians to start building on Web 3.0. The initiative aims to enlist 1,000 influencers in these fields to implement creative projects on the superfast Solana blockchain, providing them both financial as well as technical assistance towards realizing this.
Meanwhile, dApps that wish to take advantage of Solana's higher transaction speeds and scalability now have a way to migrate from Ethereum using the Neon Ethereum Virtual Machine (EVM). This EVM offers more scalability for dApps, allowing them to make the most of both networks – Ethereum – which is the most popular ecosystem currently as well as Solana – which promises TPS of up to 50,000 and an average transaction fee of around $0.00001 against Ethereum's speed of TPS and gas fees of $4-$50.
Key Levels to Watch
A peek at the H4 chart of SOL/USDT reveals how most of the moving averages as well as leading technical indicators MACD are exhibiting a strong bearish bias while the momentum indicator is flashing sell. At the moment, the price is holding above the pivot point at $26.63.
A breakdown of this level due to increased selling pressure could see Solana's price go down to the immediate support level at $23.71, and then go under the $20 level towards the next support at $19.18. On the other hand, if the sentiment improves and more buyers jump in to take advantage of the low price, we could see SOL make its way higher past the key $30 level to face resistance at $31.16 and then again at $34.08.