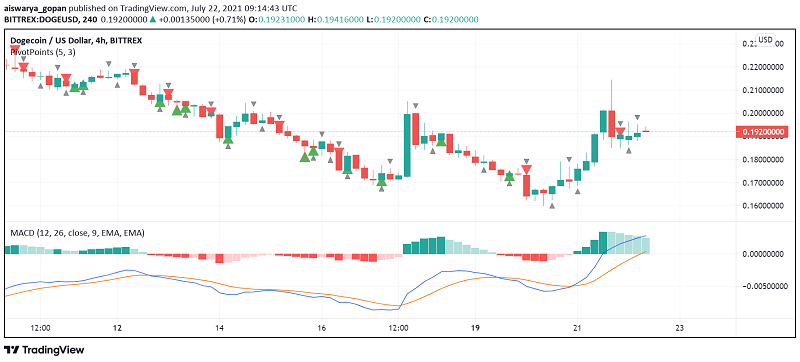 The most popular memecoin, Dogecoin (DOGE) is enjoying a strong bullish sentiment among investors, up by almost 10% over the past 24 hours, all thanks – albeit indirectly, to its lead promoter and Dogefather Elon Musk. At the time of writing, DOGE/USD is trading at around $0.19.
Musk shook cryptocurrency markets once again during the previous session after he hinted that his company Tesla could consider accepting payments in Bitcoin once again. A few months ago, the leading manufacturer of electric cars worldwide had announced a ban on BTC as a payment method, citing concerns about the high energy consumption involved in its mining process. This action sent shockwaves through the entire crypto sector, causing the bull run to come to an abrupt end and crashing the value of almost all digital currencies, Dogecoin included.
After promoting Dogecoin through the initial months of the year, Musk unexpectedly turned against it during his SNL appearance, terming it as a joke and causing its price to plummet. In recent weeks, although he tried talking up the memecoin's benefits and expressed how he looked forward to its upcoming major upgrade, markets remained unaffected, and DOGE continued to trade weak in line with the overall market sentiment.
On Thursday, Dogecoin enjoys support from a recent announcement by Coinbase's e-commerce platform, Coinbase Commerce, indicating that it would start accepting payments in DOGE. One of the leading crypto exchanges based in the US, Coinbase has been pro-DOGE in the past as well, even listed the coin on its professional trading platform, Coinbase Pro, in June.
Key Levels to Watch
On the H4 chart of DOGE/USD, most of the smaller timeframe moving averages as well as the MACD indicator are exhibiting a bullish bias among investors. However, the larger MAs and the momentum indicator are signaling interest among sellers as well.
Dogecoin's price is holding just above the pivot point at $0.18 and further buying interest can take the price above the key $0.20 level to test resistance at $0.21 and then again at $0.23. However, should the sentiment deteriorate or selling pressure build up, we can see DOGE slide down towards the immediate support at $0.16.